May 10, 11, 12, 2019
Landolt Pavillion
5002 Nasa Blvd, Seabrook TX
Hours of Operation:
Friday 11am – 9pm
Saturday 11am – 9pm
Sunday 11am – 5pm
Due to forecasted heavy rain from Thursday through Saturday, the festival is being postponed until September.  Our Parish Council made the postponement decision after consulting with the Greek Festival executive committee.
Thanks to all who are working to make the festival successful. With Our Lord's help and guidance we will navigate our way through this situation.
Want to experience Greece, but don't have time for the flight? Come to the 26th Annual Clear Lake Greek Festival and leave your suitcases behind!
Kalos Orisate! Welcome!
The 26th annual Clear Lake Greek Festival in Clear Lake City, TX is a cultural celebration of Greek heritage and traditions smack dab in the middle of the hustle and bustle in Clear Lake. The three day event features live musical performances by traditional Greek dancing troupes. Greek favorites such as the gyro, spanakopita and baklava.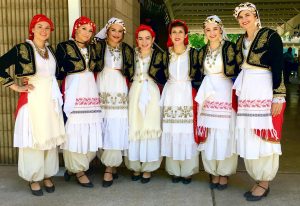 Toga! Toga! Toga!
Time to pull out the TOGA! St. John the Theologian Greek Orthodox Church is proud to present the 8th Annual Toga Fun Run!
Great food and entertainment! With the nice temperatures it's a very enjoyable event. The perfect place to take Mom on Mother's Day on Sunday.
~Leslie Eaton