Authentic Greek Foods
Our Dinner Plate: Choice of Greek rotisserie chicken or Pastichio. Includes tyropita, spanakopita, keftedes, dolmades, salata and pita bread.
A La Carte Items:
Dolmathes – seasoned rice wrapped and cooked in grape leaves marinated in lemon sauce
Keftedes – meatballs seasoned with a uniquely Greek flavor. Served with pita bread
Tyropita or Spanakopita
Greek Salad (large or small)
Gyro Salad – back by popular demand!
Pastries: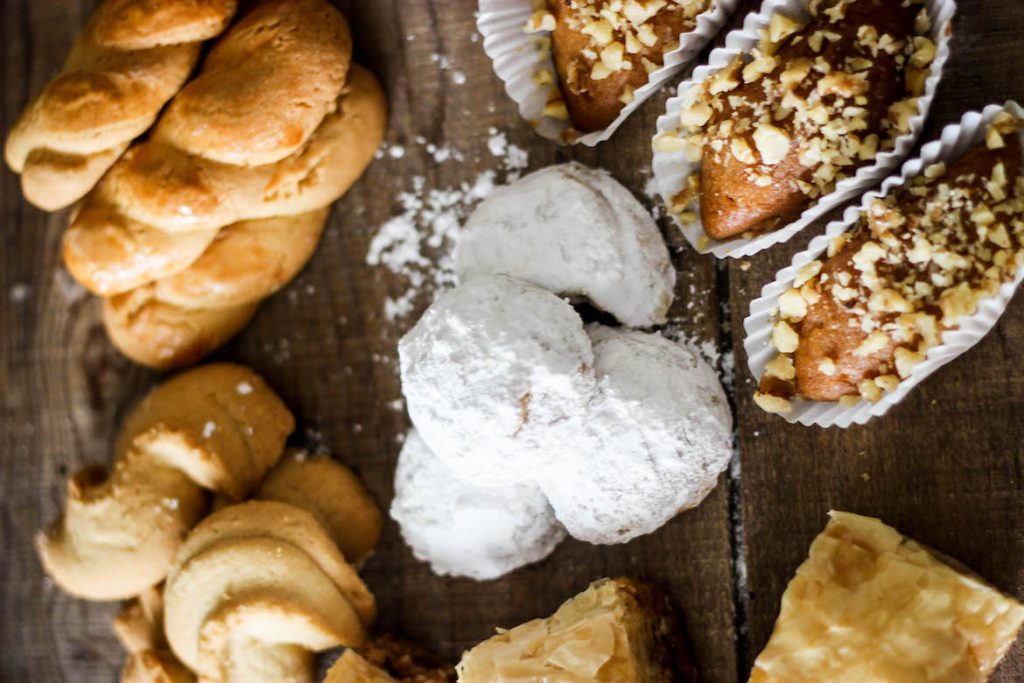 Baklava – Nuts, butter & spices in layers of filo topped with honey syrup
Chocolate Baklava – chocolate dipped rolled filo dough with nuts and honey
Kourambiedes – Rich, shortbread-like cookie covered with powdered sugar
Melomakarona (meh-loh-mah-KAH-roh-nah) also called Finikia – semisoft, honey-dipped cookie sprinkled with chopped nuts
Karidopita (kah-ree-THOH-pee-tah) A moist and flavorful walnut cake that is flavored with cinnamon and bathed in sweet syrup
Kataifi – Nut and spice mixture, rolled in shredded dough, soaked in honey
Koulourakia – Six twisted butter cookies – great for dunking!
Tsoureki – A loaf of famous Greek sweet bread
Gyros (Yee-Ro) :
Succulent sliced gyro meat and served on a warm pita with onions, tomatoes, and topped with Tzatziki (cucumber) sauce. :